Reading Time:
8
minutes
Fitness and wellness both play a vital role in our day to day life. Fitness defines the ability of a person to perform physical activities. It comprises muscle strength, power of body, joints,etc. Whereas, wellness is an overall contribution of mental health, physical health, emotional health, and so on. Both aspects are essential for humans to sustain a well stable life.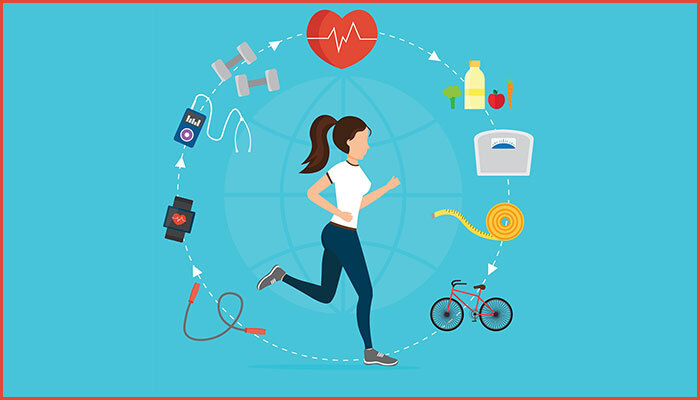 Fitness and Wellness are often confused to  have the same meaning and used interchangeably. But in reality both concepts have some variance and require some deep insights. WHO describes Fitness as the ability to perform daily tasks, sports, occupation etc.
Fitness can be achieved through proper nutrition, moderate exercise and proper rest. Whereas, according to WHO, Wellness is a continuous process of growth that aims to achieve the overall wellbeing of an individual. Wellness comprised of 8 different components:
Emotional Wellness

Spiritual Wellness

Occupational Wellness

Physical Wellness

Social Wellness

Financial Wellness

Environmental Wellness

Intellectual Wellness
Benefits of Staying Fit
Fitness has a plethora of benefits that can lead you to live stronger and longer. For better understanding of it we have described a few below:
Improves life Expectancy

According to research conducted by live science, an individual who spends 150 min per week on moderate-vigorous workout tends to live 2.7 to 3.4 years longer. This simply states that the little efforts that you would put everyday can lead you to live a long and stronger life.
Reduce the Risk of Diseases

According to a report prepared by National Health Service, UK, a fit individual has lower risk of acquiring fatal diseases.The benefit of staying fit is not just weight loss and reducing obesity they also include:

35% lower chances of coronary heart diseases and strokes

50 % lower chances of type 2 diabetes

83% lower chances of osteoarthritis

30% lower risk of Depression

68% less chances of hip fracture

50% less chances of colon cancer and 20% less chances of breast cancer
Boosts Mental Health

Staying fit not only helps you have physical health but also improves your mental wellbeing. According to the Lancet Psychiatry journal, individuals who perform regular physical activities experience 1.5 less days of poor mental health.

When you perform physical activities it releases feel-good chemicals like endorphins, that further interact with brain receptors thus reduces stress level.
Builds Key Life Skill

One of the most important and lesser-known facts about being fit is it helps in developing key life skills. Individuals who exercise regularly develop a high amount of discipline, sincerity, willpower, dedication, and determination.

Reason being they follow the same pattern every day without any fail. Furthermore, it helps in maintaining and developing social relationships. When we feel good about our own body, it helps in increasing our self-esteem. Thus it helps in making new social relations and maintaining existing ones in a better way.
Enhances The Quality of Life

Performing physical activities not only helps you to stay fit but also helps you live a better life. In addition to making your muscles stronger, it improves your overall life. It improves your life in following five ways:

Avert Depression

Enhance Sexual life

Sharpen wits

Improves sleep

Protects mobility and vitality
How can telemedicine plays a part
Telemedicine has changed the way we look at the healthcare industry and promises huge potential in the Fitness & wellness domain. There has been a surge in the demand for remote fitness and wellness around the globe.  
People are practicing social distancing and want consultation by avoiding physical meet. Telemedicine has come like a blessing in disguise as everyone can have consultation using digital media. Some of the major  benefits of Telemedicine in fitness and wellness are listed below:
Weight loss and dietetic consultations

Patient-centric care

Nutritionist consultation

Convenient care for eldery/disbaled

Psychiatrist consultations

Personalized and holistic  coaching
One such platform is Talktomedic, it is known for its easy to use Interface and excellent user experience. You can find nutritionists, dietitian, and doctors in different specialist areas.
Conclusion
It doesn't matter whether you are a kid, adult or eldery person, everyone must strive to be fit and well. As it has been correctly stated "Health is wealth". Therefore, you must consult a professional in case you need any advice. Achieving fitness along with wellness can have positive impacts in your life